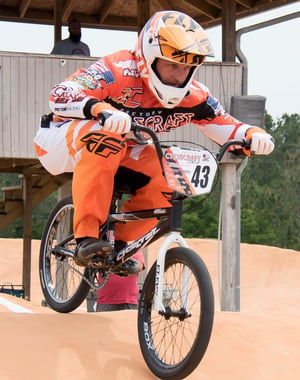 Recently published in Business Aviation Advisor Magazine, Rich Pilock is the Director of Support & Delivery for SmartSky Networks. His responsibilities include leading program and product management, as well as acting as a technical liaison for delivery and support for the Skytelligence program and the Retail Distribution Partner program for Commercial and Business Aviation.
"Rich is an integral member of the SmartSky team," said Blane Rockafellow, VP of Digital Solutions. "His strong background in the aviation industry with cybersecurity has been extremely valuable throughout the development of the Skytelligence program."
Learn more about Rich in the latest installment of SmartSky's Fast Five!
What led you to the aviation industry?
I fell into the aviation industry accidentally about 10 years ago and was instantly drawn to it. There are so many components involved in air travel and they all need to work together perfectly for a great experience. I especially like the challenge of providing a great connectivity experience at 40,000 feet and 500 mph.
What is the best career advice you have ever received?
Always keep the big picture in mind and then execute the little things flawlessly to get you there.
What are you currently reading?
Lately I have been hooked on the news feed app on my iPad and Flipboard on my phone. I have all of these different categories of topics and a constant supply of new information. It's hard to keep up! Some of the major feeds I am following are: Cybersecurity, Aviation, Airlines, Leadership, Technology, Product Management and Travel.
To tie back to your BAA article— what do you see for the future of aviation communications security?
There are so many challenges that are specific to aviation that make it more difficult to protect. Unfortunately, the greatest security innovations are aimed at the larger terrestrial markets where there are less physical limitations and much larger revenue opportunities. I think and hope that as the cybersecurity product market continues to grow, some of these companies will begin to offer solutions specifically for the aviation vertical market. The SmartSky ATG network, with its ability to get data off the plane in high speed as well as to the plane, will enable many of these security products to function properly as they typically require real time data transfer to be effective. One example would be enabling all of the system logs to be transferred from the plane in real time instead of storing them until landing. The logs could also be configured to send more frequently with more detailed information to monitoring tools on the ground, speeding up response times for potential security issues.
What is a fun fact that most people don't know about you?
I spend a lot of my down time riding trails on my mountain bike or racing laps on the BMX track. The intensity and focus required allows me to clear my head for a while and hit the reset button. It's probably not the most conventional way to relax.
Keep an eye out for more thought leadership from Rich. Connect with him on LinkedIn!