During the Operations track of the 2018 Global Connected Aircraft Summit, our VP of Digital Solutions, Blane Rockafellow, gave a presentation on "Developing Connected Aviation". He discussed the ways connectivity is transforming the future of aviation, the challenges that lie ahead for the development of apps and services, and how SmartSky's Skytelligence™ technology framework can facilitate "unleashing the value of connectivity."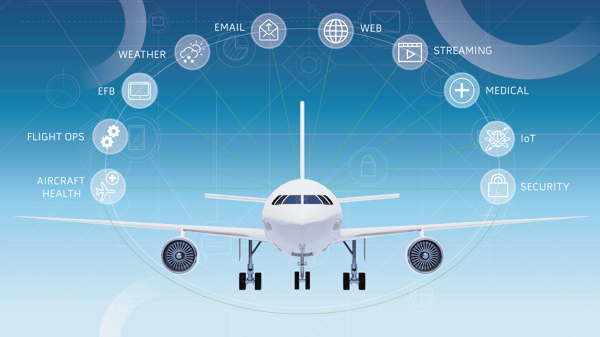 There are several areas in which the connected aircraft can be improved. More eEnablement and shared information means a better experience for aircraft operators, maintenance teams, ground support personnel, pilots, crew, ATC, and of course, passengers. However, some goals of connected aircraft are difficult to accomplish. "We know that there are a lot of things in the connected aircraft that have been discussed at GCAS," Blane said. "Not any one company can do it all."
Transforming Connectivity
Connectivity is transforming the aviation industry— just look at the projected growth in both connected aircraft and IFC ancillary revenues between 2018 and 2026. According to reports from Valour Consulting and The London School of Economics and Political Science, there are currently 8,815 connected aircraft, which is 38% of the global commercial fleet. That amount is expected to rise to 20,852 connected aircraft by 2026, or 68% of the commercial fleet. IFC ancillary revenues are forecast to grow exponentially as well: from $3.8 billion this year to $52 billion in 2026.
Challenges
As Blane mentioned, "we know that there's money out there, but we also know that there are a lot of challenges that come up" within the development of connected apps and services. One challenge is the movement of data, apps and services between connectivity networks both on the ground and in flight. Security is also a concern— having access to an interoperable environment that allows for sharing while maintaining the integrity of data boundaries. Furthermore, the combination of high costs of development and the lack of experienced resources to access the right data and algorithms provides more obstacles.
"My goal is to facilitate those innovators to go out and build something that's great." - Blane Rockafellow
Skytelligence™ Unlocks Value
Skytelligence "unleashes the value of connectivity" by enhancing collaboration between networks, airlines, business jet operators, data suppliers and apps. These kinds of partnerships, open platforms and open frameworks can lead to greater levels of innovation.
With its open API framework, secure B2B marketplace, multiple data sources, advanced algorithms and proprietary systems, and network independence, Skytelligence allows aircraft to tackle the challenges that stand in the way of achieving greater connectivity. "At SmartSky, what we've done, is invested some things into the industry, not just into our network," Blane said.
Changing Perception
Skytelligence is designed to "redefine the term 'airplane mode'" with a collaborative framework open to all market participants and delivers flexibility across multiple platforms and networks. The framework allows for the rapid deployment of apps and services over any network, with the benefit of lower development time and costs as developers can access data feeds.
Connect with Blane Rockafellow to learn more about Skytelligence and start a conversation about opportunities for apps and services.