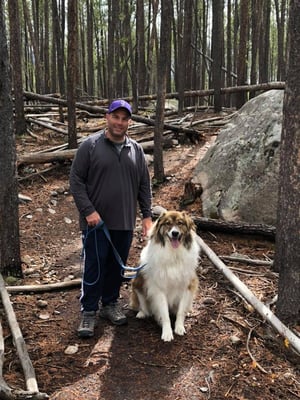 Coming from a significant background in FAA and STC development and management, Patrick Van Wie joined the SmartSky team in July as Director of Aircraft Certification and Product Assurance. Patrick's work includes managing SmartSky's ongoing and future STC efforts, providing product certification guidance, assisting with quality assurance, and monitoring for aircraft systems failures and returns.
"We are very fortunate to have Patrick on the SmartSky team," said Darren Emery, VP of Product Support. "His extensive experience in avionics certification and product assurance is already paying off and will be an enormous benefit as we rapidly expand our STC effort and quality management initiatives at SmartSky."
Get to know Patrick, and his dog Toby, in the latest installment of SmartSky's Fast Five!
What led you to the aviation industry?
I started my career in the US Air Force around the time of Operation Desert Storm in Iraq. My interest in the Air Force comes from being amazed by the technology and capabilities of aircraft. The science and engineering behind aviation is amazing and gets better as time goes on. I've been excited to be part of aviation since the day I stepped into the Air Force recruiter's office. After separating from the Air Force and working in technology outside of aviation for a few years, I happily jumped on the opportunity to return. Being out on an aircraft making multiple systems work together in ways that improve the industry is pretty darned exciting.
What motivates you or inspires you to work hard?
Family. Without the support of family and my wife of 26 years, Michelle, in particular, I wouldn't be able to enjoy the career I've had. I am also motivated by creating something new and solving problems. I find a great deal of satisfaction in finding solutions to complex problems, whether creating something new or significantly improving an existing technology. To see a solution put into place that solves problems and makes customers happy is very motivating for me.
If you could have dinner with one person, who would you choose and why?
This is difficult to answer because there are so many great people who are influential in different ways. I enjoy listening to and being around people who are great at what they do. From an avionics technician to business leaders and technological icons, there is always something that can be learned from the best in their fields. I would choose former NASA Flight Director Gene Kranz, who led the Gemini and Apollo programs and overcame the most difficult of challenges.
Where is your favorite place you have traveled, and why?
Travel is part and parcel of working in the aviation industry. I have a lot of favorite places for various reasons but would have to say England is at the top of the list. The people are warm and friendly, they have a great sense of humor, and the country has a rich and amazing history. I've traveled throughout Europe, Southeast Asia, and all of North America, and my favorite thing is the people. Despite geographic and cultural differences, we all have more in common than we have differences.
You have a 140-pound dog named Toby. What is one thing that owning such a large dog has taught you?
Our Toby is a St. Bernard/Great Pyrenees mix who was found as a stray in New Mexico. He is the biggest dog we've had and is truly a gentle giant. He provides a feeling of security and comfort at home while I'm traveling. One thing Toby has taught is adapting to changes. Toby had a rough start in life but has really settled into family life. We take him a lot of places and introduce him to new situations and environments, and he's learned to quickly adapt to any new environment. I've also learned that because he's so big, we need a bigger car, bigger house, bigger bed…
Connect and start a conversation with Patrick on LinkedIn!