In celebration of the 2018 EAA AirVenture Fly-In & Convention this week, we're looking back on last year's event, when Bruce Holmes, our VP of Digital Aviation, presented an overview of SmartSky's 4G LTE network. Read Bruce's remarks from that presentation below and dig into the future of connectivity with SmartSky.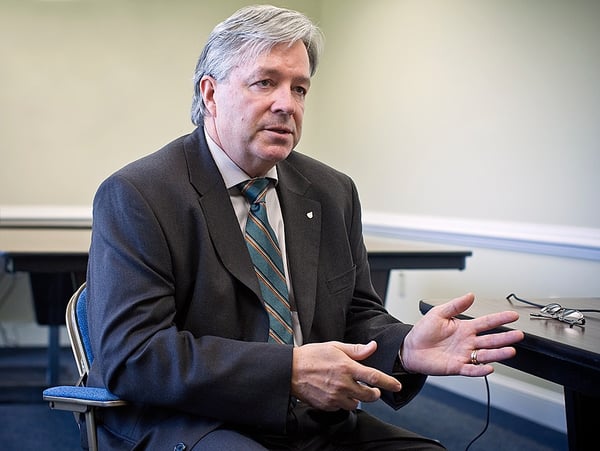 In his prophetic book of 2000, Telescosm, the futurist George Gilder writes:
"Chips and software will continue to make great contributions to our lives, but the action is elsewhere. To seek the key to great wealth and to understand the bewildering ways that high tech is restructuring our lives, look not to chip speed, but to communication power or bandwidth. Bandwidth is exploding, and its abundance is the most important social and economic factor of our time."
The implications of Gilder's forecast have profoundly changed the ways connected devices work. The bandwidth revolution has hollowed out our computers and mobile devices, making them portals to the Internet instead of simply self-contained machines. This revolution has taken place almost everywhere . . . except in aviation. Now, it is our turn.
Remember the 1967 movie, The Graduate? One word: Plastics. That word in 2017 is... connectivity.
You will all be familiar with the increasing use of the term "connected aircraft." At SmartSky Networks, we are launching the Skytelligence™ data management and sharing framework to host developers of aviation apps and services in improving pilot workloads, passenger comfort, aircraft efficiency, and overall safety of flying.
Today, SmartSky is building out the U.S. CONUS network for our 4G LTE broadband, air-to-ground wireless network. Our aircraft connectivity and software hosting solution provides secure, low cost, balanced bi-directional, low latency, private Internet connectivity between pilots, airspace managers, the cabin, the Cloud, and home base. Apps and services integrated through the Skytelligence™ platform and Service Oriented Architecture will ride on the SmartSky bandwidth to change the way we fly.
What does this all mean to us in general and business aviation?
Can you imagine:
All your pilot workload being aided by having your apps and systems always on line?
Having all your aircraft systems- engine, avionics, hydraulics, comms, navs, and surveillance- always on line?
Having an online dispatch service as a single pilot owner operator?
And this is barely the beginning. There are 2.2 million apps in the iPhone app store. How many apps might our community of aviation innovators invent in the next five years?
In the near term, we can employ bandwidth to improve efficiencies in airspace and flight path management. These improvements promise savings of 10 to 15 percent in flight path distance, time, and costs for individual aircraft, according to research in both the U.S. and Europe. Other apps promise improvements in MRO, logistics, fleet tracking and performance management, airspace management, and numerous other web-enabled aerospace tools. In the longer term, coupled with advancements in propulsion and automation, further savings in aviation operating costs are possible.
Taken as a whole, these innovations can lower costs that, in turn, lead to increased consumption of personal air travel, increased connectivity of communities and markets, and increased national productivity along with the prospects of increased safety and reduced carbon footprints for aviation.
And why can these innovations happen? One word: Connectivity.
And who will make this connectivity happen? One word: SmartSky.
And who will produce these innovations? One word: You.
Connect and start a conversation with Bruce on LinkedIn.