The Wings of Freedom tour has not stopped in Raleigh in 20 years, but it is making an appearance in the Triangle this weekend. We took some time this afternoon to head over and capture some of the buzz.
The North Carolina Department of Transportation facility at RDU International is crowded with people of all ages that share one passion: aviation. On Friday, we wandered through a sea of children with wide eyes, gazing in awe at the size and stories of each aircraft. We witnessed WWII Veterans taking pictures in front of aircraft they may have flown in personally. Each aircraft is a piece of living history, and the public has a chance to take part in their story.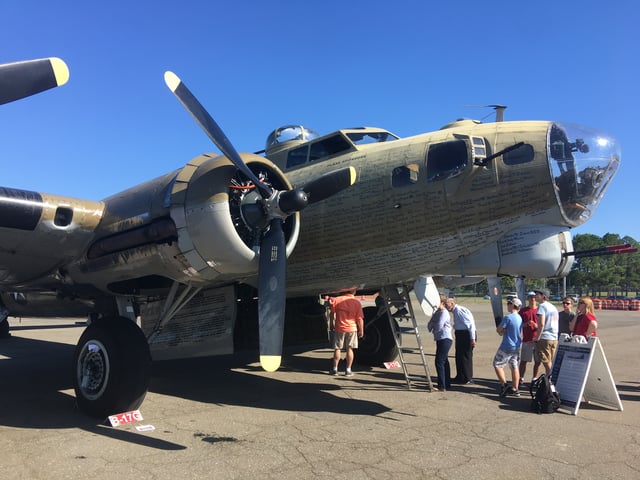 Visitors can take a step back in time by exploring four different aircraft:
B-17 Flying Fortress "Nine O Nine"
Consolidated B-24 Liberator "Witchcraft"
B-25 Mitchell "Tondelayo" bombers
P-51D Mustang "Toulouse Nuts" fighter
The B-17 is the most widely recognized and revered aircraft type of World War II. According to a press release, the B-17 is one of only eight in flying condition in the United States. The B-24 is the sole remaining example of its type flying in the world.
Don't miss your opportunity to explore the aircraft inside and out. Tickets are $15 for adults and $5 for kids under 12. You can find them at the N.C. Department of Transportation facility at the airport at 1050 Meridian Dr. Tickets are available for purchase at the entrance from 10 a.m. to 4 p.m., Saturday and Sunday.
You can even fly in these planes! Learn more about tickets here.
Not only can you see these aircraft in person, but there are several booths to guide you through aviation today. Have a conversation with the EAA about their Young Eagles program that gives youth ages 8-17 their first free ride in an airplane. Speak with the Collings Foundation about other Living History Events. Engage with other vendors in our community looking to build awareness of aviation events in our area.
We are pleased to contribute to a vibrant aviation community in North Carolina. Looking for a new opportunity? Join a growing team committed to elevating inflight connecticity.