SmartSky's employees may be scattered across the United States, but we share a common goal: spread joy and help those in need, not just around the holidays.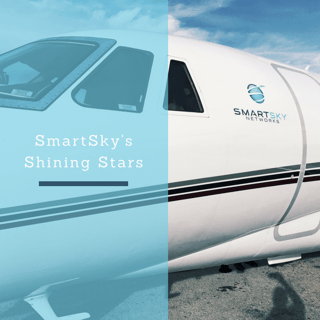 We continue to support the Corporate Angel Network (CAN) through "4 Gives More" donating $4,444 annually to help fund CAN flights to improve patients' chances of survival, while also reducing their emotional stress, physical discomfort and financial burden.
Here's a look at a few of our SmartSky employees that go above and beyond in volunteer activities for organizations that are close to their hearts.
Vice President & General Counsel, Rich Rowlenson, delivers food for Meals on Wheels in Farmington, CT. Volunteers through the Meals on Wheels program deliver prepared dishes to elderly people who live alone in their homes or in assisted living facilities, many of whom have debilitating illnesses. "It is hard to see them so uncomfortable, but they seem to brighten when I deliver hot and cold meals to them. I always take time to linger and talk with them. They like to ask about my family and what is going on with them. I love seeing them every time."
Doug Hyslop, VP RAN Engineering, has volunteered with the Boy Scouts of America for eight years in Northern Virginia. Doug served as a den leader in Cub Scouts for five years, leading a small group of six to eight boys teaching them program requirements and outdoor skills. For the last three years, he has been the Cubmaster for a 90 scout Pack. "Boy Scouts teaches moral values and life skills. This includes first aid, citizenship, service to others, personal growth, and wilderness survival. It is a great program for youth - and I get as much back, watching the boys grow and learn new skills."
In the Raleigh/Durham area, Chief Business Development Officer, Stan Eskridge and his wife Bren have been active in their support of the SECU Family House in Chapel Hill for the past 10 years. The Family House serves adults with serious illnesses at UNC Hospitals and their families. Bren was instrumental in creating the Association of Interior Designers (now with more than 60 active members) that has been decorating the SECU Family House for Christmas for many years. It is reportedly one of the most meaningful contributions of the year for the patients and their families, and it also provides the designers with an opportunity to make a difference at Christmas time.
Business Aviation Account Manager, Allie Lerma, spreads her support in Florida across many different associations including the Gary Sinise Foundation, Local Low Income Schools, the Boys and Girls Club, and the Emerald Coast Children's Advocacy Center. The Gary Sinise Foundation serves wounded soldiers and provides resources and programs designed to educate, inspire and strengthen the community. Gary is a supporter of the NBAA and says, "While we can never do enough to show gratitude to our nation's defenders, we can always do a little more." Allie reaches out to social workers and provides gifts to children in need at local Title One and Low Income schools in her home of Bay County. She also volunteers at the local Boys and Girls Club participating in luncheons and programs, and serves dinner to Emerald Coast Children's Advocacy Center shelters and foster homes.
As SmartSky grows, we're looking forward to starting traditions together in more of our communities.
Read more about SmartSky's Employees and their activities here.