On Tuesday, November 14, 2017, select Business Aviation editors participated in a demonstration of SmartSky 4G LTE in Melbourne, FL.
It was a brisk morning in Melbourne as reporters from AIN, Aviation Week, Flying Magazine, Avionics, and Professional Pilot boarded our Citation Excel. VP of Product Management, Eric Brooks, was also onboard with the media.
"There are no special instructions for you; just connect to the aircraft wifi like you would at the office, and do anything you like." Eric said, "No need to download or launch any special applications on your devices."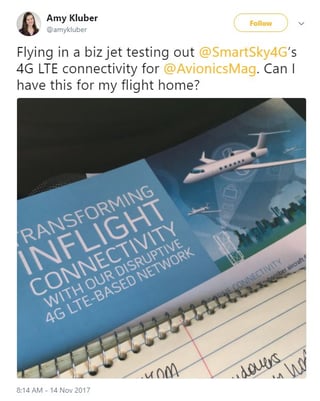 Avionics' Amy Kluber posted this tweet in flight, while others used many different devices and applications simultaneously. They were able to experience a seamless transition from office work to entertainment or social media in the aircraft.
Following the flight, the media participated in a debrief at the Satcom Direct hangar and then toured Avidyne.
Supporting more than 90 percent of all corporate flight departments, Satcom Direct offers nose-to-tail value-add services including cockpit datalink service, accelerated high-speed data, real-time traffic monitoring, VoIP services, ATS position reporting, mobile applications and unified electronic billing. SD serves as SmartSky's exclusive customer service and support provider.
SmartSky partners with Avidyne for the manufacture, certification and support of its air-to-ground wireless connectivity products. We have worked closely to develop specialized products for business aircraft, including airborne radios and antennas. Avidyne secures Parts Manufacturing Authorization (PMA) for new hardware, provides ground and flight-test services, and develops the initial Supplemental Type Certification (STC) for installation.
We'd like to thank our partners, SD and Avidyne, for their support. To learn more about our Technology partners, visit our Partners page.
You can read a more detailed review of our Media Day with additional statistics in a recent press release.
For firsthand accounts, take a look at the articles written by those in attendance:
AINOnline: SmartSky Offers Unlimited Data for Early-bird Customers
Flying Magazine: Can SmartSky Deliver on its Lofty High-Speed Connectivity Promise?
Avionics: A Firsthand Look at SmartSky's 4G LTE In-Flight Connectivity
Aviation Week: 2018 To User In SmartSky Availability
Get Connected: SmartSky 4G LTE gets closer to commercial launch
Don't miss out on the opportunity to lock in Unlimited Data for your Aircraft. Sign up for our Launch Promotion today!
We'll be updating this post periodically to reflect any additional articles.